VIZIO M221NV 22-Inch Full HD 1080P LED LCD TV with VIA Internet Application Review
24 September 2010
View Comments
Rating: 4.1/5.0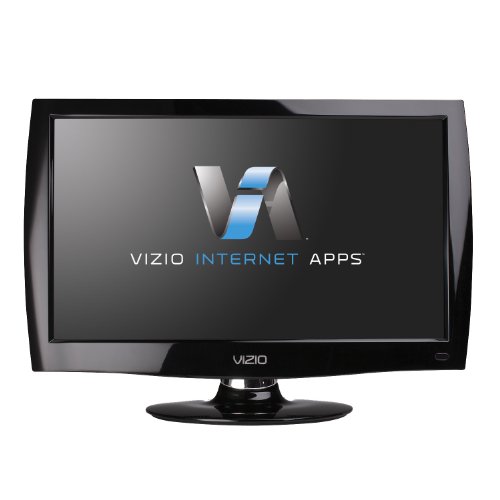 The VIZIO M221NV LED TV offers the latest RazorLED technology from VIZIO that provides top quality display capability and ultra thin profile at the same time.  It has decent contrast performance and connectivity options to cater to most consumer needs.  It has VIZIO's Ambient Light, SRS Audio technology, Wi-Fi capability and VIZIO Internet Apps among its many features.
An LCD with LED Edge Backlight technology powers this TV's screen.  The display has a native 1080p display format that offers full High Definition (HD) quality, perfect for your Blu-ray player and the likes.  Its panel lamp life rates at 30000 hours.
The TV has a dynamic contrast ratio that rates at 50000:1 and an actual performance of 1500:1.  This is below average performance, even for a small-sized LED TV.  The TV's deep black and peak brightness levels are also below average at 0.22 cd/m2 and 200 cd/m2 respectively.  This TV can provide a decent amount of details in both shadows and highlights, but blacks can look washed-out, while whites will not compare in brightness to other LED TVs.  This is one of the TV's disadvantages.
The TV's color performance is excellent with the help of LG's RazorLED technology.  The screen displays rich and vibrant colors that help enhance each scene.  There are no errors or oversaturation in any of the major colors.  Color transition along the edges of an image remains smooth even during scene transitions.  The overall display is uniform with no blotches or flashlighting.  A decent 16.7-million color depth helps generate life-like images in any video application.
The TV's viewing angle is average for an LED TV.  The TV's viewing angle rates at 88 degrees and its actual performance at 34 degrees.  Most LED TVs offer a narrow viewing angle range of 30 – 40 degrees.  Viewing images outside of the effective viewing angle causes a significant drop in the TV's color accuracy and contrast performances.
The TV's refresh rate is below average at only 60 Hz and its response time rates at 5-milliseconds.  The TV's slow refresh rate doesn't provide smooth transition in fast action clips or scenes.  There are occasional judders and noticeable motion blurriness when playing fast moving subjects.  This TV's performance is significantly lower that performances offered by many LED TVs.  Latest TV technology offers up to 240 Hz refresh rates that are 4 times faster than what this TV offers.
The VIZIO M221NV TV has built-in Digital (ATSC, QAM) and Analog (NTSC) TV tuners.  This TV also supports 1080i, 720p, 480p, 480i display formats aside from its native 1080p display format.  These display formats are common in HDTV and regular TV broadcasts.  There are no noticeable errors in the conversion and display of these formats to the TV's 1080p display screen.
Audio output is thru the TV's internal speakers mounted at the left and right sides of the device using an invisible speaker design system.  Each speaker rates at three Watts for a total audio output power of six Watts.  The TV's audio performance is enough to provide a decent sound output for a small room, but not enough to provide an exceptional performance.  The TV's audio also has SRS TruSurround HD that provides a surround sound effect and SRS TruVolume capability that limits the volume inconsistency between programming.
This VIZIO TV also has an Ambient Light Sensor feature that adjusts the screen's brightness according to the ambient light of the room automatically.  This feature ensures optimum contrast and color accuracy performance in every scene regardless of the brightness of the room.
The TV's VIZIO Internet Apps (VIA) is one of its best features.  Viewers can now stream videos, listen to music or get the latest news and sports update from the web directly to the TV's screen.  Its wide online content includes Amazon Video on Demand, Flickr, Netflix, Rhapsody, Twitter, VUDU and Yahoo TV Widgets ready to launch at a touch of a button.  This is a growing list of online content and viewers can expect more to come soon.  Connection to the internet can be through the Ethernet port or through the TV's built-in Wi-Fi (802.11N) system.  Internet connection is easy and clutter-free with the integrated wireless technology.
This TV has a decent amount of connectivity options to cater to most of your needs.  It has two HDMI, one Component, one Composite Video, one RF, one S-Video, one Ethernet, one PC Input (RGB) one SPDIF Digital Output (Optical) and one USB port.  The TV's VGA and HDMI ports support 1920 x 1080, 1360 x 768, 800 x 600 and 640 x 480 computer resolutions.
The TV's dimensions are 21.75 x 13.56 x 2.1 inches (W x H x D), and it weighs approximately 8.15 lbs with its stand attached.  The package comes with a swivel stand and VIZIO's VR12 infrared universal remote control.  This TV is also ENERGY STAR qualified, giving it power efficiency in both operational and standby modes.  This TV consumes about 65 Watts in operation and less than 1 Watt in standby mode.
One of its main competitors in its category is the Samsung LN32B360 TV.  The Samsung LCD TV has a lower 720p native display format, but offers a larger 32-inch display screen.  The Samsung TV offers a better deep black and peak brightness levels of 0.09 cd/m2 and 400 cd/m2 respectively.  These performances gives the TV a better contrast performance of about 4200:1, compared to VIZIO's 1500:1.  Color accuracy and effective viewing angle performances are identical between the two TVs.  The Samsung TV also has an identical 60 Hz refresh rate as the VIZIO TV hence, the same motion performance as well.  The VIZIO TV offers wider connectivity options than the Samsung TV with its USB port and WI-Fi capabilities.  The Samsung TV costs about $200 more than the VIZIO TV.
Enhance your small room with this VIZIO M221NV LED TV.  It offers the latest RazorLED technology from VIZIO that provides HD video performance in an ultra thin design.  It has several valuable features, like Wi-Fi and Ambient Light capabilities that promise high quality performance and convenience at the same time.  All this in a competitively priced package.  The TV's glossy black panel and ultra thin profile look elegant and sleek, even for a small-sized TV and it can easily complement any room or office architecture.
Best Prices on the Web
Technical Specifications
SPECIFICATIONS
Class:
22″
Viewable:
21.5″
Tuner:
ATSC/Clear QAM Tuner
Native Panel Resolution:
1920 x 1080 pixels
Signal Compatibility:
Supports 1080P(HDTV), 1080I(HDTV), 720P(HDTV), 480P(EDTV), 480I(SDTV)
Colors:
16.7 Million
Computer Support:
1920×1080, 1360×768, 800×600, 640×480 via VGA/HDMI
Display Compatibility:
1080P(FHDTV)
Dynamic Contrast Ratio:
50,000:1
Brightness:
250 nits
Response Time:
5ms
Viewable Angle:
170/160 degrees (horizontal/vertical)
Pixel/Dot Pitch:
0.248mm x 0.248mm
SRS TruSurround HD™:
Yes
SRS TruVolume™:
Yes
SRS TruSurround XT™:
No
INPUTS (REAR)
HDMI with HDCP
2
RF Connector for Internal Tuner
1
Composite Video:
1
Component YPbPr plus Stereo Audio:
1
S-Video:
1
Computer RGB:
1
USB Ports:
Ethernet:
Yes
INPUTS (SIDE)
HDMI with HDCP
RF Connector for Internal Tuner
Component YPbPr plus Stereo Audio:
Composite Video:
S-Video:
Computer RGB:
USB Ports:
1 (Service and Future Multimedia Functionality)
Music (MP3):
Video (MPG):
Photo (JPEG):
OUTPUTS (REAR)
SPDIF Digital Optical:
1
Stereo Audio:
Headphones:
ADDITIONAL FEATURES
Refresh Rate:
60Hz
Smooth Motion:
Yes
LED:
Edge Lit Razor LED™
Picture-in-Picture (PIP):
No
Picture-outside-Picture (POP):
No
Zero Bright Pixel Defect Guarantee:
Yes
V-Chip:
Yes
3D Comb Filter:
Yes
3:2 or 2:2 Reverse Pull-down:
Yes
ATSC with 8VSB & QAM demodulation:
Yes
ATSC with MPEG-2 decoding:
Yes
NTSC Video decoding via Video:
Yes
Progressive Scan Video:
Yes
Color Temperature:
5400K, 6500K and 9300K
Color Fine Tuning:
Independent Red, Green and Blue
Speakers:
3W x 2 speakers
Panel Lamp Life (typical):
30,000 Hours
Voltage Range:
100~240 Vac at 50/60 Hz
Power Consumption:
<1W Standby, 65W w/ALS (Ambient Light Sensor)
Remote:
VR12
WEIGHT
Gross:
14.33lbs
Net With Stand:
8.15lbs
Without Stand:
7.71lbs
DIMENSIONS
With Stand:
21.75″W x 15.43″H x 7.13″D
Without Stand:
21.75″W x 13.56″H x 2.1″D
Packaging Dimensions:
25.59″W x 18.50″H x 5.51″D
| | |
| --- | --- |
| CERTIFICATIONS | CSA/ CSA-US, FCC Class B |
| | |
| --- | --- |
| COMPLIANCES | Energy Star 4.0, Digital Ambient Light |
WALL MOUNT SPECIFICATIONS
Hole Pattern:
VESA standard 100mmx100mm spacing
Screw Size:
M4
Screw Length:
20.0mm
Screw Pitch:
.7mm
| | |
| --- | --- |
| VIZIO WARRANTY | One Year Parts & Labor Free Lifetime Technical Support |
By
The TV Review