Panasonic TC-P42C2 42-Inch 720p Plasma HDTV Review
9 August 2010
View Comments
Rating: 4.0/5.0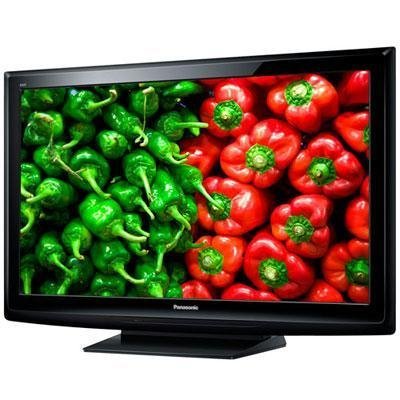 The Panasonic TC-P42C2 42-inch TV is part of Panasonic's C2 series.  This TV promises crisp and superb quality High Definition (HD) pictures for home entertainment.  Its 600 Hz Subfield drive provides excellent motion performance ideal for fast movie and sports clips.  This TV proves to be one of the best entry-level Plasma TVs in the market that packs many features like the VIERA Image Viewer and the VIERA Link.
A Plasma (PDP) technology powers this TV's display screen.  The screen has a 16:9 wide screen image aspect ratio with a total resolution of 786432 pixels.  The screen has a 720p native display format that is ideal for watching HD movies from your Blu-ray or similar devices.  Full HD viewing requires a display format of 720p or higher, and with a medium-sized screen there is no significant difference between a 720p and a 1080p screen performance.
This Panasonic TV has an excellent deep black level of 0.8 cd/m2.  This excellent deep black level provides this TV the capability to display great details in dark images and in shadows.  The peak brightness level is not as great.  The TV's peak brightness level is only about 150 cd/m2. Bright images will appear darker when viewed on this TV compared to LCD TVs.  This peak brightness level is significantly lower than TVs like the JVC LT-42P300 that features peak brightness level as high as 350 cd/m2.  High deep black level and an inferior peak brightness level characterized most of Plasma TVs like this Panasonic TC-P42C2.
Contrast level is average at about 1000:1.  This TV's Dynamic Contrast rates at 2000000:1.  You can achieve good details and contrast in pictures with little adjustments to the TV's settings.  Color accuracy is above average for this TV.  It doesn't have oversaturation in any of the major colors, and there are no noticeable errors.  The TV also has excellent uniformity, providing consistent color accuracy and performance across its screen.
Motion performance is excellent for this TV with its 600 Hz Subfield drive.  The fast refresh rate provides seamless image transition when watching fast action clips.  There is no noticeable motion blurriness or judders.  Its excellent performance also makes this TV ideal for watching your favorite sports events.
Effective viewing angle for this TV is excellent, just like other Plasma TVs.  This TV rates at 78 degrees viewing angle with an effective performance of about 66 degrees.  The wide effective viewing angle will allow viewers to watch consistent video quality in a wide range of angles in front of the screen.
There is a built-in Digital (QAM, ATSC) and an Analog (NTSC) TV tuner in this TV.  This is also an HDTV ready set and supports HDMI, Component and Composite video interfaces.  It supports 480p, 720p, 1080i and 1080p video formats.  Audio output is thru the TV's internal speakers mounted at the left and right side of the panel.  Each speaker rates at 10 Watts, giving a total audio output power of 20 Watts.  Audio output is in Stereo mode with basic controls for Balance, Treble and Bass.
This TV features a decent amount of connectivity options to cater to basic consumer needs, but may seem limited, compared to high end TVs.  There are 2 HDMI inputs (19-pin HDMI Type A), a Composite video input (RCA phono), a Composite video input (RCA phono), an Audio line-in (RCA phono x 2) and 2 Component video input (RCA phono x 3) ports.  This TV doesn't have a USB port, but features a built-in memory card slot that can accommodate SD/SDHC cards to view digital photos on the TV's screen.
Displaying SD/SDHC stored images on the TV's wide screen requires the VIERA Image Viewer feature of the TV.  Watch photos with friends and family members right after you take them simply by inserting the memory card to the TV's memory slot.  This TV also has Panasonic's VIERA Link feature that connects compatible AV devices to the TV's HDMI ports and operate them using the TV's remote control.  Conveniently control and access functions to your digital cameras, camcorders, Blu-ray players and other home entertainment systems with a touch of a button on the VIERA remote.
The TV's dimensions are 40.6 x 3.7 x 26.1 inches (W x D x H), and it weighs 57.3 lbs with the stand attached.  This TV is also ENERGY STAR qualified, giving it good power consumption performances in both operational and standby modes.  Panasonic has revolutionized its Plasma TV's power consumption as part of its commitment to playing a part of the protection of the environment.  This Plasma screen's life can last for up to 100000 hours, and it can save up to 35% or power consumption compared to other Plasma TVs of the same screen size.
One of its main competitors in its category is the Samsung PN50A760 Plasma TV.  The 50-inch Samsung TV offers a better performance and more connectivity options at a more expensive price.  The Samsung TV has an identical good deep black level and color accuracy performance as the Panasonic TV.  The Samsung TV however, offers a higher peak brightness level of 200 cd/m2, compared to Panasonic's 150 cd/m2.  A higher peak brightness level provides brighter white images and better details in highlights of a scene.  The Samsung TV also offers four HDMI and a USB port compared to three HDMI on the Panasonic TV with no USB port.  The USB port in the Samsung TV allows playback of digital photos, videos and MP3 music.  The Panasonic TV may have an SD/SDHC memory slot but it doesn't support playback of videos and music.  The Samsung TV costs about $300 more than the Panasonic TV, but proves to be a better choice between the two TVs for those who have the budget for an extra investment on their TV sets.
Make every movie night a memorable night with the Panasonic TC-P42C2.  Its superior 600 Hz Subfield drive and full HD quality will provide you and your family an excellent viewing experience watching your favorite movies or sporting events.  The VIERA Link and VIERA Image Viewer features will provide you convenience at your fingertips while providing an all-in-one entertainment system right in your living room.  This medium-sized TV will be a perfect compliment for a medium or small-sized room or office.
Best Prices on the Web
Technical Specifications
| | |
| --- | --- |
| Model Type | Plasma |
| Series | C2 |
| Model Year | 2010 |
| VIDEO | . |
| Screen Size | 42″ Class (41.6″ diagonal) |
| Contrast Ratio | Dynamic: 2,000,000:1 |
| Aspect Ratio | 16:9 |
| Native Resolution (Number of Pixels) | 786,432 (1,024 x 768) |
| Moving Picture Resolution | 720 lines or more |
| Shades of Gradation | 6,144 equivalent |
| HDTV Display Capability (1080p, 1080i, 720p) | 720p |
| EDTV Display Capability (480p) | Yes |
| Aspect Control | Normal, Just, Zoom, Full, H-fill |
| Full HD 3D | No |
| AR (Anti-Reflective) Filter | No |
| 600Hz Sub-field Drive | Yes |
| 24p Cinematic Playback | No |
| 24p Playback(2:3) | Yes |
| Deep Color | Yes |
| x.v.Color | Yes |
| Studio Ref Mode | No |
| Pro Setting | No |
| THX Mode | No |
| ISFccc | No |
| 3D Color Management | Yes |
| Sub Pixel Control | No |
| Motion Pattern Noise Reduction | Yes |
| 600 Hz Sub-field Drive | Yes |
| AUDIO | . |
| Speakers | Full-range x 2 (L, R) |
| Number of Speakers | 2 |
| Audio Output | 20 W ( 10% THD ) |
| BBE® VIVA HD3D Sound | No |
| Surround Sound | Yes |
| INPUTS & JACKS | . |
| Integrated ATSC Tuner | Yes |
| VIERA Image Viewer™ | Y (JPEG playback) |
| HDMI Input | 2 |
| Composite Video Input | 2 (1 side) |
| Audio Input (for Video) | 2 (1 side) |
| PC Input | No |
| Component Video Inputs (Y, PB, PR) | 2 |
| Audio Input (for Component Video) | 2 |
| RS232C | No |
| Digital Audio Output | 1 |
| HDMI Input-Support Feature | Audio Return Channel (Input 1) |
| Analog Audio Input ( for HDMI/DVI) | Yes |
| USB | No |
| LAN Port | No |
| CONVENIENCE | . |
| VIERA Link™ | Yes |
| VIERA Cast™ (IPTV) | No |
| Skype Ready | No |
| VIERA® Tools | Yes |
| Game Mode | No |
| 3D Active Shutter Eyewear | No |
| Clean Touch Bezel | No |
| Pixel Orbiter (Anti-Image Retention) | Yes |
| Built-In Closed Caption Decoder | Yes |
| Off – Timers | Yes |
| Trilingual Menu | English/Spanish/French |
| GENERAL | . |
| Power Supply | AC 120 V, 60Hz |
| Energy Star | Yes |
| Receiving System | ATSC/QAM/NTSC |
| Operating Temperature | 32°F – 104°F (0°C – 40°C) |
| Safety Standard | UL6500/C-UL |
| Swivel Angle | No |
| Optional Wall-mounting Bracket | TY-WK4P1RW |
| SPECIFICATIONS | . |
| Dimensions (H x W x D) with Stand | 27.8″ x 40.6″ x 12.1″ |
| Dimensions (H x W x D) without Stand | 26.1″ x 40.6″ x 3.7″ |
| Weight (lbs.) w/Stand | 57.3 lbs. |
| Weight (lbs.) without Stand | 52.9 lbs. |
| Carton Dimensions | 30.2″ x 45.6″ x 11.2″ |
| Gross Weight [lbs (kg)] | 66.1 lbs. |
| Weight | 66.1 lbs |
By
The TV Review