Panasonic TC-L42U25 42-Inch 1080p 120 Hz LCD HDTV Review
9 September 2010
View Comments
Rating: 4.1/5.0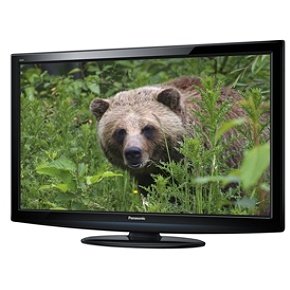 The Panasonic TC-L42U25 entry-level LCD TV features a decent video quality with above average performances in motion and contrast.  This 42-inch LCD TV also provides a decent amount of connectivity options and Panasonic features, including VIERA Image Viewer and VIERA Link, all packaged in an elegant glossy black panel and an affordable price range.
A TFT Active Matrix screen with EEFL backlight technology powers this TV's display.  This TV uses the latest Panasonic IPS LCD Panel that enhances the backlight's brightness to render vivid and crisp images in any scene.  The IPS technology also increases the TV's effective viewing angle performance and limits the screen's reflectivity.  The screen has a 1080p native display format that produces full High Definition (HD) quality perfect for playing Blu-ray movies or playing gaming consoles.  This TV also has a 16:9 widescreen aspect ratio with four modes available – Full, Just, Zoom and Conventional 4:3.
Deep black level for this TV rates at 0.12 cd/m2, and peak brightness level rates at 350 cd/m2.  Contrast performance for this TV is above average at 3200:1.  Its above average contrast performance enables this TV to produce excellent details in both dark and highlights of an image.  Deep black level should be 0.20 cd/m2 or less and peak brightness level should be 200 cd/m2 or more to produce satisfactory details in dark and bright parts of any scene.  The TV's Dynamic Contrast ratio rates at 20000:1.
Color performance is excellent for this TV.  The IPS panel, with Panasonic's video reproduction system, produces vivid colors for life-like images.  There are no noticeable errors or oversaturation in any of the major colors.  Color transition along the edges of an image remains smooth even for moving subjects.  Color performance is one of this TV's best attributes.  The TV produces 2073600 pixels for sharper and clearer pictures.
The TV's viewing angle rates at 88 degrees with an effective viewing angle performance of 46 degrees.  This performance is not as good as Plasma TVs, but it is more than the performance of most LCD TVs.  LCD TVs don't have wide viewing angles, and many LCD TVs only manage a viewing angle range of 30 – 40 degrees.  This Panasonic TV's performance is significantly better than your average LCD TV.
The Panasonic TC-L42U25 also features a built-in Digital (QAM, ATSC) and Analog (NTSC) TV tuners.  It has an HDMI, Composite, S-Video and Component video interfaces and features a Close Caption capability.  It is compatible with 480p, 720p and 1080i video formats that are common for HDTV and regular TV signals.  Displaying these formats in the TV's 1080p native display screen doesn't produce any error or inconsistency in the display.
Audio output is in Stereo mode through the built-in speakers mounted at the left and right side of the device using an invisible speaker design system.  Each speaker rates at 10 Watts for a total audio output power of 20 Watts.  The audio system also features a Surround Sound effect for improved audio quality.
Motion performance is average with its 120 Hz refresh rate.  This TV produces seamless scene transition, even for fast action clips.  Other high-end TVs offer refresh rates of up to 240 Hz – two times faster that this Panasonic TV.  Watching fast films in this TV's screen doesn't produce any judders or noticeable motion blurriness.  This excellent motion performance is ideal for watching HD movies or playing games.
There is a decent amount of connectivity options available on this TV.  The ports sit at the side and rear of the device.  At the side, there is 1 HDMI input (19-pin HDMI Type A), 1 Composite video input (RCA phono) and 1 Audio line-in (RCA phono x 2) port.  At the rear of the panel, there are 2 HDMI input (19-pin HDMI Type A), 1 Composite video input (RCA phono), 1 S-Video input (4-pin mini-DIN), 1 VGA input (15-pin HD D-Sub, HD-15), 1 Component video input (RCA phono x 3), 1 Audio line-in (RCA phono x 2) and 1 SPDIF output ports.  There is also a built-in SD/SDHC memory card slot to cater to memory cards.  Viewing digital photos stored in memory cards is easy with the Panasonic VIERA Image Viewer.  This feature provides instant playback by simply inserting your camcorder's memory card to the TV's memory slot.
Additional features include Panasonic's VIERA Link that allows users to control compatible devices connected to the TV's HDMI port.  Easily access the menu and control the functions of compatible Blu-ray devices, camcorders or entertainment systems using your TV's remote.  This convenient feature will easily make your Panasonic TV an all-in-one entertainment system.  This TV also features a Game mode that enhances the TV's video and motion performances for a better gaming experience.
The TV's dimensions are 40.2 x 4.2 x 25.1 inches (W x D x H), and it weighs approximately 45.2 lbs with the stand attached.  The package comes with a stand and an infrared remote control.  The stand however, doesn't swivel making access to the rear ports a little challenging.  A wall-mounting bracket is also available for this TV (TY-WK3L2RW wall bracket) that sells separately.  This TV is also ENERGY STAR qualified, giving it power efficiency in both operational and standby modes.  This TV consumes only 96.6 Watts of power in operational mode and less than 1 Watt in standby mode.
One of its main competitors in its category is the LG 37LH55 LCD TV.  This LG TV offers an identical 1080p native display format with a smaller 37-inch screen.  The LG TV's deep black level stands at 0.32 cd/m2 and peak brightness level at 350 cd/m2.  Overall contrast performance of about 1500:1 is slightly inferior to the Panasonic's contrast ratio performance.  Both TVs offer an identical color accuracy performance.  The LG TV has a narrower viewing angle of 36 degrees, compared to Panasonic's 46 degrees.  The LG TV however, provides a better motion performance with its 240 Hz refresh rate.  The LG TV costs about $100 less than the Panasonic TV.
Experience crisp and vivid images with the Panasonic TC-L42U25 LCD TV.  The TV's superior imaging system and contrast performance guarantees sharp display in any video application.  Add convenience and value to your usual viewing habit with the VIERA Image Viewer and VIERA Link features.  This entry-level TV is perfect as a bedroom TV or for any small or medium-sized room application.
Best Prices on the Web
Technical Specifications
Model Type
LCD
Series
U25
Model Year
2010

VIDEO

.

Screen Size
42″ Class (42.0″ diagonal)
Viewing Angle
178°
Aspect Ratio
16:9
Native Resolution (Number of Pixels)
2,073,600 (1,920 x 1,080)
HDTV Display Capability (1080p, 1080i, 720p)
Yes
EDTV Display Capability (480p)
Yes
Aspect Control
480i/p: Full, Just, 4:3, Zoom
1080i/p: Full, H-Fill, Just, 4:3, Zoom
Panel
IPS 1080p (WSXGA)
Filter
Fine Black Panel
Backlight
EEFL
Progressive Scan
Yes
24p Playback(2:3)
Yes
Intelligent Scene Controller
Yes
Motion Focus Technology
Yes
Contrast (Dynamic)
20,000:1
120 Hz
Yes (Motion Picture Pro 4)
24p Smooth Film
Yes

AUDIO

.

Speakers
Full-range x 2 (L, R)
Number of Speakers
2
Audio Output
20 W ( 10% THD )
Surround Sound
Yes

INPUTS & JACKS

.

Integrated ATSC Tuner
Yes
VIERA Image Viewer™
Y (JPEG playback)
HDMI Input
3 (1 side)
Analog Audio Input (for HDMI)
Yes
Composite Video Input
2 (1 side)
Audio Input (for Video)
2 (1 side)
PC Input
1
Component Video Inputs (Y, PB, PR)
1
Audio Input (for Component Video)
1
Digital Audio Output
1 (5.1 ch)
HDMI Input-Support Feature
Audio Return Channel (Input 1)

CONVENIENCE

.

VIERA Link™
Yes
Universal Dock for iPod
No
VIERA® Tools
Yes
Game Mode
Yes
Clean Touch Bezel
No
Built-In Closed Caption Decoder
Yes
Trilingual Menu
English/Spanish/French
Sleep Off-Timers and Programable Timer
Yes (5 programs)

GENERAL

.

Power Supply
AC 110 – 127 V, 60 Hz
On Mode Average Power Consumption
96.6 W
Energy Star
Yes
Receiving System
ATSC/QAM/NTSC
Swivel Angle
No
Tilt Angle
No
VESA Compatible
Yes
Optional Wall-mounting Bracket
TY-WK3L2RW

SPECIFICATIONS

.

Dimensions (H x W x D) with Stand
26.8″ x 40.2″ x 12.2″
Dimensions (H x W x D) without Stand
25.1″ x 40.2″ x 4.2″
Weight (lbs.) w/Stand
45.2 lbs.
Weight (lbs.) without Stand
39.7 lbs.
Carton Dimensions
29.3″ x 52.1″ x 9.1″
Gross Weight [lbs (kg)]
55.1 lbs.
By
The TV Review