Mitsubishi WD-73C9 73-Inch 1080p Flat panel DLP Home Theater Review
9 August 2010
View Comments
Rating: 4.2/5.0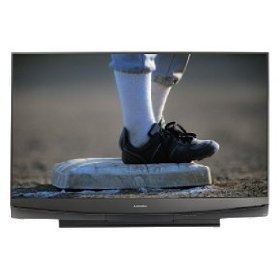 The Mitsubishi WD-73C9 Flat Panel Home Theater offers intense vivid viewing experience with its large 73-inch screen and excellent video quality.  This Home Theater system promises to outpace smaller LCD TVs with its superior contrast ratio, excellent motion performance and life-like image quality.
This rear projection TV makes use of DLP (Digital Light Processing) projection technology to power its huge 73-inch display.  The screen has a native 1080p format that provides excellent video quality that will make the most of your High Definition (HD) videos played from your Blu-ray or similar devices.  This TV also has a 16:9 widescreen image aspect ratio.
This TV has a refresh rate of 120 Hz that is ideal for smooth viewing.  The fast refresh rate eliminates judders and motion blurs during scene transition in fast action clips.  This TV's motion performance is above average, compared to most TVs in the market.  There are no noticeable motion problems when viewing images from its display.
DLP TVs have excellent contrast performance.  This Mitsubishi TV produces clear details in both shadows and highlights of any image.  This TV produces one of the best color reproduction performances in the market.  Mitsubishi's exclusive six-color processor can produce up to 35 trillion colors to provide crisp images with realistic color details.  This technology produces brighter whites and a wider range of color for a life-like reproduction.  There is also an improved Video Noise Reduction feature that effectively eliminates noise and grain in video displays.  There are also video modes available with its Brilliant, Bright, Natural, Game and Advanced modes.  The Game mode enhances the TV's motion and contrast performance to provide a good gaming experience playing your favorite game console.
One of its main disadvantages is the "rainbow effect" common in many DLP devices.  The "rainbow effect" flashes red, green and blue that shadows images and is mostly noticeable in bright subjects imposed in dark or black backgrounds.  Although this is not a common occurrence, it may negatively affect your viewing experience if it happens.
This TV is also 3D ready and this is one of its best features.  Using a pair of 3D glasses, this TV produces vivid and crisp 3D images with excellent color qualities.  The excellent contrast and video performance will provide exceptional 3D videos and images that will surely make you part of the action.  The TV's 3D video, gaming and dual-screen features will require compatible 3D source devices (like Blu-ray players and the likes), 3D glasses and IR emitters.
This TV also has a built-in Analog/Digital Combo TV tuner and it is HDTV ready.  It supports HDMI and Component video interfaces that supports 1080/30p, 1080/60p, 1080/60i, 1080/24p, 720p, 480p, 1080p, 1080i and 480i video formats.  Some of these formats are common for basic TV signals or HDTV inputs.  There are no errors in displaying the different video formats in the native 1080p screen.
Connectivity options available include 1 Component video input at the side (RCA phono x 3) and the rear ports include 3 HDMI input (19-pin HDMI Type A), 1 Audio input (RCA phono x 2), 2 Component video input (RCA phono x 3), 1 3D glasses port, 1 Audio output (RCA phono x 2), 3 Audio input (RCA phono x 2) and 1 Digital audio output (coaxial – RCA phono).  Computer connection to the TV's display supports 1280 x 1024 (SXGA), 1064 x 600, 898 x 480, 1365 x 768, 1280 x 720, 1920 x 1080, 1024 x 768 (XGA), 640 x 480 (VGA) and 800 x 600 (SVGA) resolutions.
Audio performance is average for this TV.  There are built-in speakers mounted at the left and right side of the panel.  Each speaker measures 5.5 x 2.5 inches and rates at 10 Watts for a total audio output power of 20 Watts.  There are basic controls available for Bass, Treble and Balance.  The audio performance is suitable for small to medium-sized rooms, but may prove inadequate for larger room applications.  Connecting the TV's audio to an external home theater device will surely maximize viewing experience with its large screen.
The TV is also ENERGY STAR qualified, giving it power efficient power consumption in both operational and standby modes.  This TV consumes approximately 180 Watts of power during operation and less than 0.6 Watts in standby mode.  Additional features include Video Noise Reduction, Ultrathin Frame, Advanced Video Calibration Mode and an Easy Connect feature.  The TV's Easy Connect feature recognizes input devices that plug into the TV.  The TV's menu will display the active devices that plug into it, giving convenience in accessing their functionalities.
The TV's dimensions are 65.2 x 17.9 x 43.6 inches (W x D x H), and it weighs 92.8 lbs.  The package includes a universal infrared remote control, but doesn't include a stand or mount.  The company doesn't design or manufacture stands and mounts for this specific model.  The owner should consider the TV's dimensions and weight carefully when selecting a third party mount for this device.  This TV features an Ultrathin Frame design from Toshiba, but it is thicker and heavier than your conventional LCD TV.
One of its main competitors in its category is the Sony KDS-60A2020 rear projection TV.  This Sony TV also offers the same 1080p native display format, but with a smaller 60-inch screen.  Contrast and color reproduction performances are identical between the two, with the Sony TV capable of producing excellent video images with realistic colors and no noticeable errors.  The Mitsubishi TV holds a slight advantage in the connectivity category with three HDMI ports, compared to two HDMI ports for the Sony TV.  The Sony TV is not 3D ready.  The Sony TV costs about $200 more than the Mitsubishi TV.  The Mitsubishi TV is the better choice between the two, with its wider screen and 3D capability packaged in a less expensive price.
The Mitsubishi WD-73C9 Home Theater system will redefine your viewing experience, with its huge screen and superior video quality performance.  Offering great features at a competitive price this Home Theater system provides an incomparable performance that is definitely stronger than smaller flat screen TVs.
Best Prices on the Web
Technical Specifications
Optical System
Display Type DLP®
HDTV Resolution* 1080p
Lamp Power 180 watts
Video Performance
Mitsubishi Exclusive 6-Color Processor™ Yes
Plush 1080p 5G 12-Bit Video Processing
and video format conversion
Yes
HDMI 1.3a™
Deep Color™ (36 bit) and x.v.Color™ Yes
PerfectColor™  Yes
Improved Video Noise Reduction Yes
New Advanced Video Calibration Mode Yes
3D Ready** Yes
Picture Format Modes (4:3 sources) 6
Picture Format Modes (16:9 sources) 3
User Controls
Easy Connect
™ Yes
ChannelView™ Yes
A/V Adjustment (Memorized By Input) Yes
Color Temperature Control (By Input) Yes
Video Modes:
Brilliant/Bright/Natural/Game/Advanced
Yes
Audio
Internal Loudspeakers  2
Speaker Size 5.5˝ x 2.5˝
Output Power (watts/ch.)  10 watts
Level Sound (dynamics limiter)  Yes
Digital Output (PCM) for All Analog Sources  Yes
Tuning
Combined  Tuner Analog/Digital/Cable
(in the clear)
1
Antenna (RF) Inputs 1
Side Inputs
Component/Composite Combined 1
Rear Inputs
Component/Composite Combined
(480i/480P/720P/1080i)
2
Stereo Audio Input for PC/DVI Source 1
HDMI
™ Inputs 3
480i, 480p, 720p, 1080i (60Hz) Yes
1080p (24Hz, 30Hz, 60Hz) Yes
HDMI™ Digital PC Compatibility
640 x 480, 898 x 480, 800 x 600,
1064 x 600, 1024 x 768, 1280 x 720,
1365 x 768, 1280 x 1024 @ 60Hz
Yes
1920 x 1080 @ 24Hz, 30Hz, 60Hz Yes
Outputs
Stereo Audio Output 1
Digital Audio Output (Dolby® Digital / PCM) 1
3D IR Emitter
** 1
Remote Control
Remote Control Universal
Customization Features
Direct IR Input Selection Yes
Direct IR Format Selection Yes
Independent IR Power ON / OFF  Yes
By
The TV Review